In collaboration with Ukrainian artist Nadia Galabuda, the Team Happy Foundation has created a series of short stories centering the experiences of young people in the region.
Release: June 20, 2022
World Refugee Day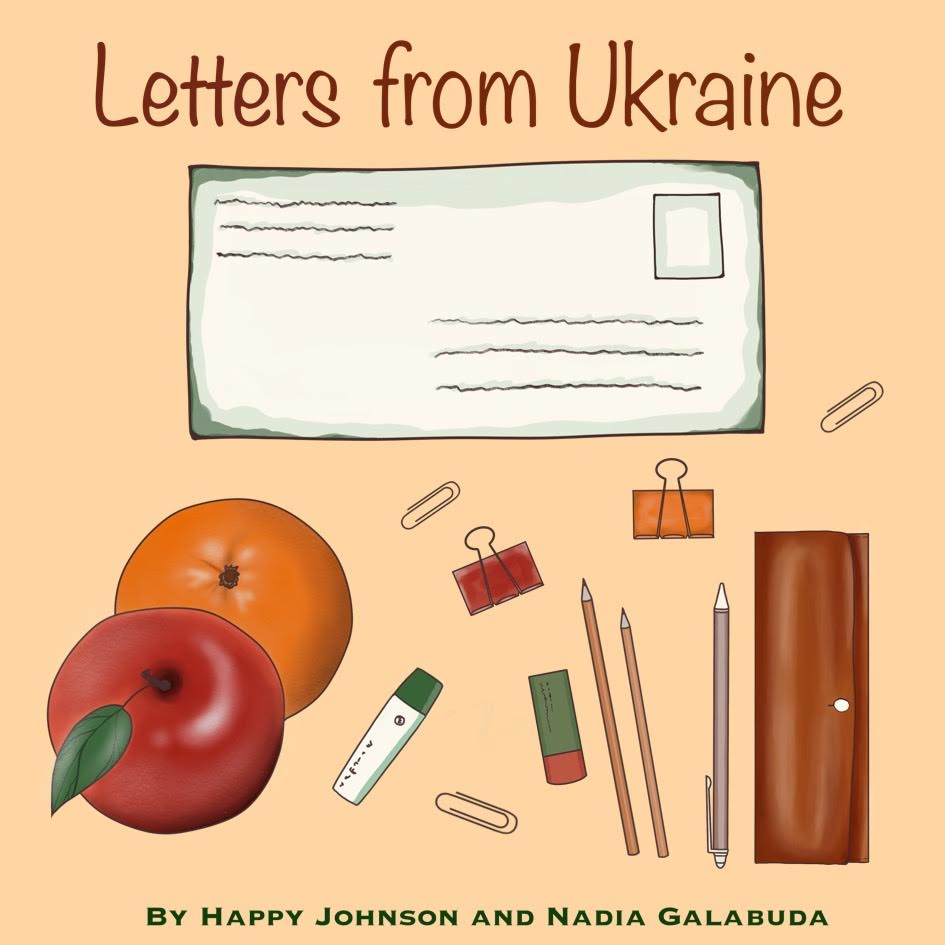 WARSAW, Mazowieckie - War in Ukraine has led to the largest refugee crisis in Europe since World War II. More than 14 million people fled their homes at the start of the Russian invasion on February 24, 2022.

Russia and Poland, bordering countries, have welcomed and provided substantial resources of food, housing, education, health care and monetary support to more than 3.5 million refugees.

I traveled to Poland during the past couple of days to [1] join others in prayer for peace, [2] feed those in need, [3] listen to members of the refugee community and [4] conduct research on how the conflict has affected families - encountering people of different perspectives joining together for one cause: humanitarian coordination.
There are a myriad of ways to start in terms of gathering ideas to help rebuild; potentially, the following composites may provide some additional context and inspiration. Set in Kyiv — "Letters from Ukraine" is based on first-person oral histories and related news accounts
Happy Johnson
June 20, 2022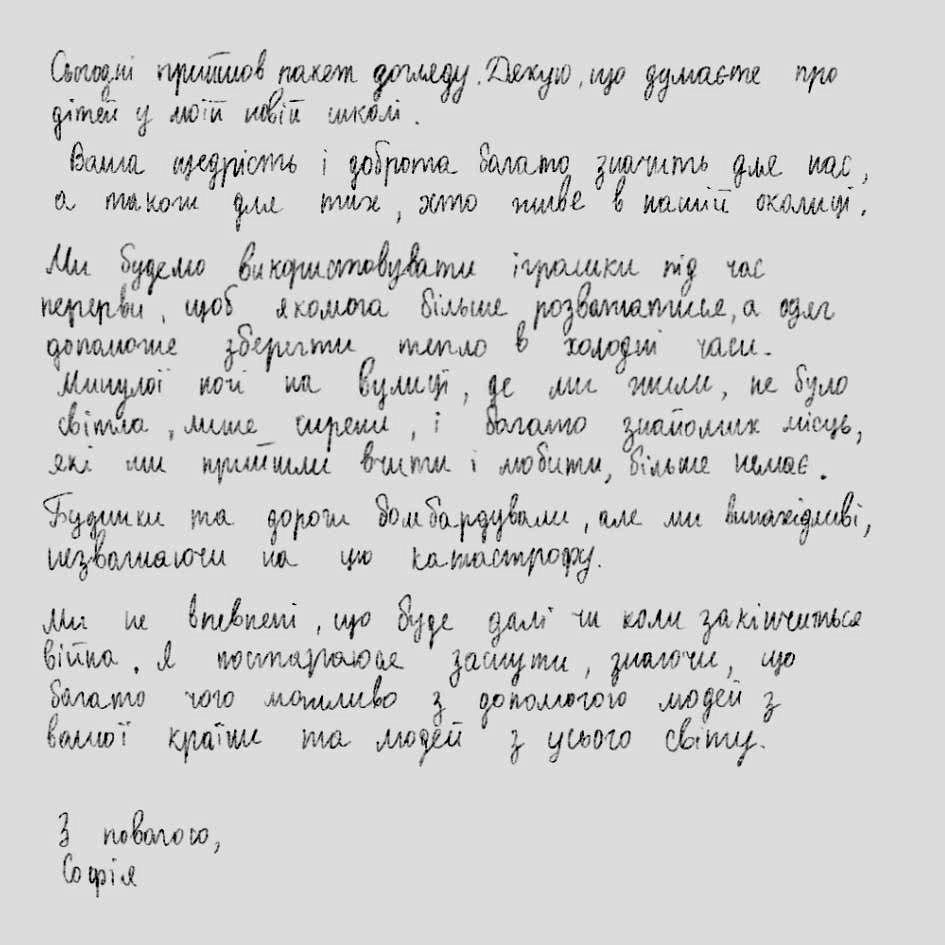 The care package arrived today. Thank you for thinking about the kids at my new school.
Your generosity and kindness means a lot to us as well as those within our neighborhood.
We will use the toys during recess to have as much fun as we can and the clothes will go a long way in helping to stay warm during cold times.
Last night there were no lights, only sirens, on the street where we lived and many of the familiar places we have come to learn and love are no longer there.
Buildings and roads have been bombarded but we are resourceful in spite of this disaster.
We are not sure about what will happen next or when the war will end. I will try to go to sleep knowing that much is possible with the help of the people from your country and those around the world.
Sincerely,
Sofia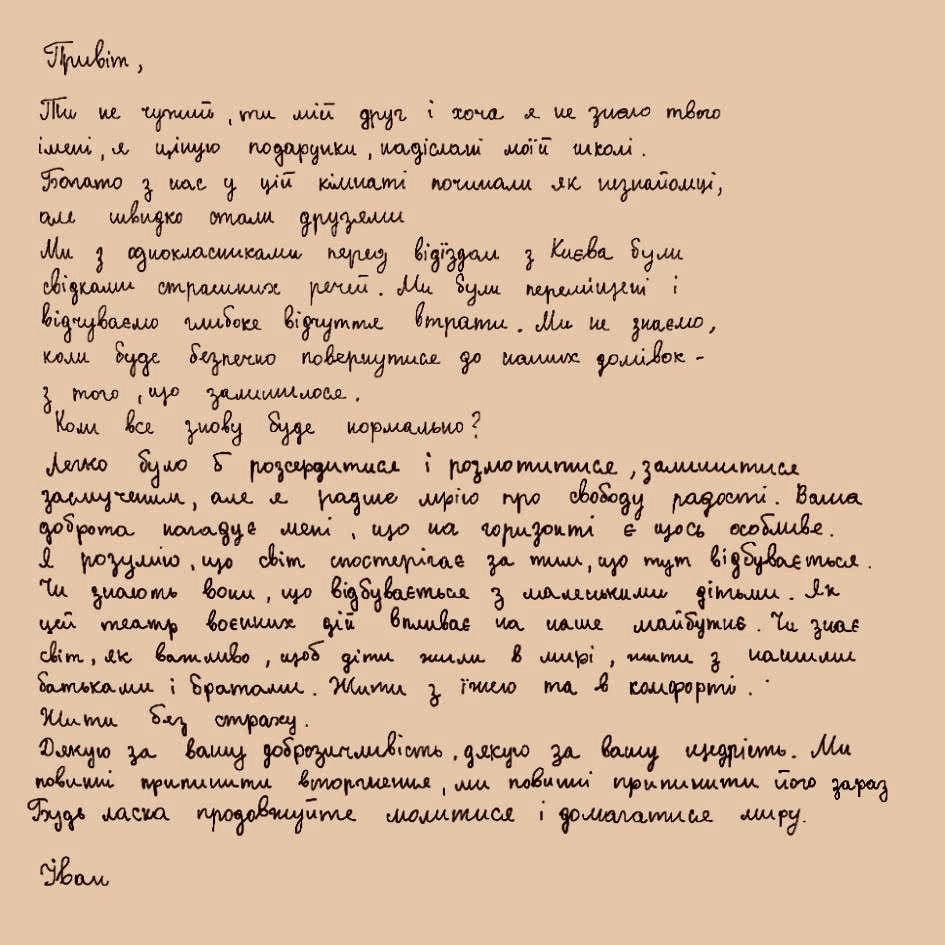 Hello,
You are not a stranger, you are my friend; and while I don't know your name, I appreciate the gifts sent to my school.
Many of us in this room started out as strangers but we have quickly become friends.
My classmates and I witnessed terrifying things before leaving Kyiv. We have been displaced and feel a deep sense of loss. We do not know when it will be safe to return to our home - of what remains. When will things become normal again?
It would be easy to lament the somber mood or to stay upset but I rather dream about the freedom of joy. Your kindness reminds me that there is something special on the horizon. 
I understand that the world is watching what happens here. Do they know what has happening to young children. How this theater of war impacts our future. Does the world know how important it is for children to live in peace, to live with our fathers and brothers. To live with food and in comfort. To live without fear.
Thank you for your goodwill, thank you for your generosity. We must stop the invasion and we must end it now. Please continue to pray and press for peace.
Ivan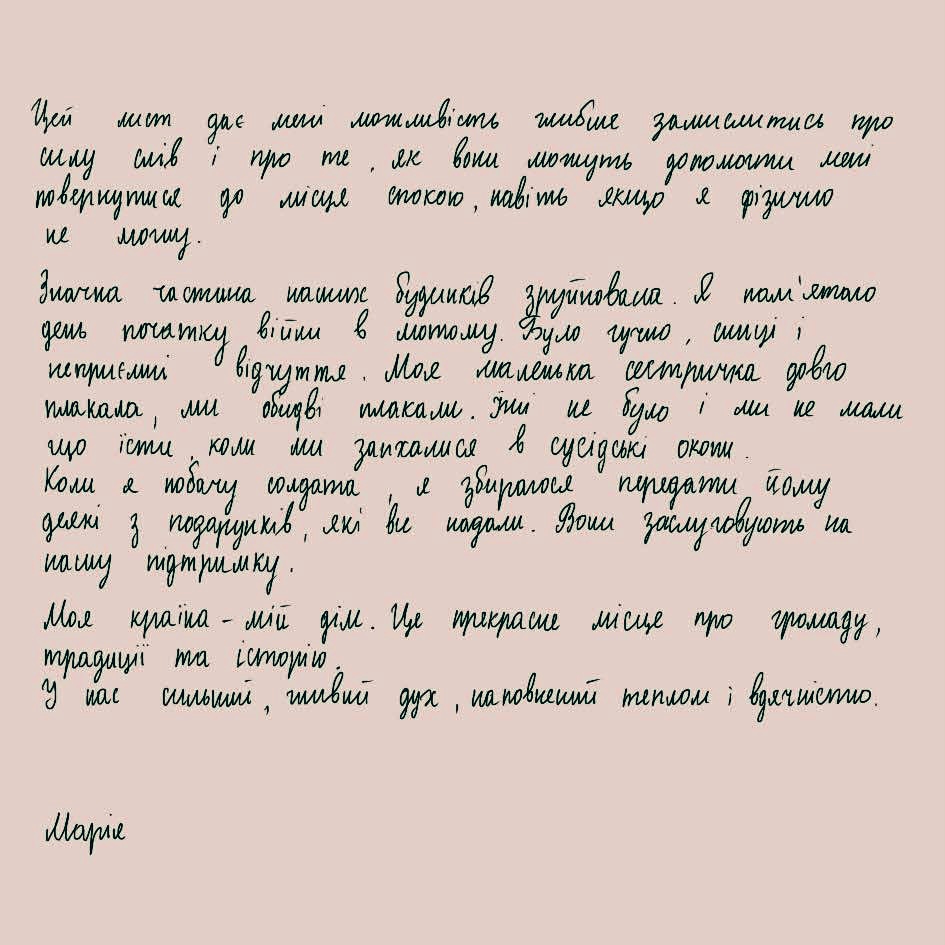 This letter is an opportunity for me to think more deeply about the power of words and how they can help me return to a place of peace even when I physically cannot. 
Much of our town has been destroyed. I remember the day the war started in February. It was loud, bruising, and uncomfortable. My baby sister cried for a long time, we both did. There was no food and nothing to eat as we crammed into a neighbor's trenches. When I see a soldier, I am going to give them some of the gifts you have supplied. They deserve our support.
My country is my home. It's a beautiful place about community, tradition and history. We have a strong, vibrant spirit filled with warmth and gratitude.
Maria